Order REGENERATION now from Harper Voyager Impulse!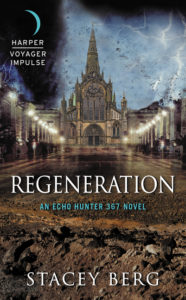 The world is ready to be reborn . . .
Protected by the Church for four hundred years, the people of the City are the last of humanity—or so they thought. Echo Hunter 367, made to be faithful to the Church and its Saint at all costs, embarks on what she's sure is a suicide mission into the harsh desert beyond the City. Then, at the end of all hope, she stumbles on a miracle: another enclave of survivors, a lush, peaceful sanctuary completely opposite of anything Echo has ever known.
But the Preserve has dark secrets of its own, and uncovering them may cost Echo more than just her life. She fears her discoveries will trigger a final, disastrous war. But if Echo can stop the Church and Preservers from destroying each other, she might have a chance to achieve her most impossible dream—saving the woman she loves.
---
DISSENSION also available from Harper Voyager Impulse!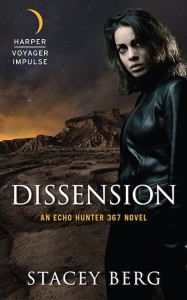 For four hundred years, the Church has led the remnants of humanity as they struggle for survival in the last inhabited city. Echo Hunter 367 is exactly what the Church created her to be: loyal, obedient, lethal. A clone who shouldn't care about anything but her duty. Who shouldn't be able to.
When rebellious citizens challenge the Church's authority, it is Echo's duty to hunt them down before civil war can tumble the city back into the dark. But Echo hides a deadly secret: doubt. And when Echo's mission leads her to Lia, a rebel leader who has a secret of her own, Echo is forced to face that doubt. For Lia holds the key to the city's survival, and Echo must choose between the woman she loves and the purpose she was born to fulfill.